ArcBest Overview:
Find out what ArcBest can do for your supply chain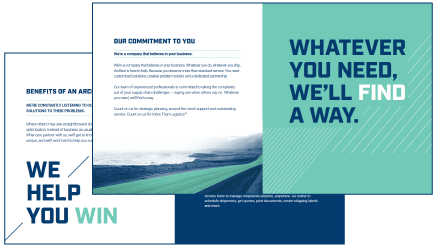 What's in the guide?
Take a look at the benefits of partnering with ArcBest, along with a quick overview of our transportation and logistics solutions — all designed to help make your job easier. Download the guide now.
FREE DOWNLOAD
Learn about how ArcBest can meet your logistics needs:
Simplify your supply chain with one provider
With ArcBest, we offer many different solutions to cover all your logistics needs.
Truckload
Truckload solutions that help you control costs, increase efficiency and cover loads.
Expedite
Best-in-class expedite service through our Panther Premium Logistics fleet.
Managed Solutions
Efficient, cost effective logistics strategies that's designed for your needs.
International
End-to-end capabilities to plan, prepare and execute your global shipments.
LTL
Reliable less-than-truckload services through ABF Freight's innovative network.
Final Mile
Maximize customer satisfaction with personalized delivery and assembly services.